Everybody loves to have a clean and clutter free work area and this applies to the busy housewife who spends a major part of her time in the kitchen storage bins as well as the industrial worker who works in an industrial setup. There is something very invigorating about a clean and uncluttered work space and there are several advantages to it as it sets the tone for the entire house or the industry setup.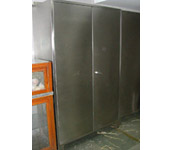 Industrial Storage Bins
One of the best ways of ensuring this is to have the right collection of storage bins for your job. Then it doesn't matter whether your job is in the kitchen or an industrial setting. In almost all cases for kitchen storage bins, the consumers feel that they require varied styles of storage bins to ensure an organized workplace. Careful planning of the requirements backed with efficient and handy storage bins of the required shapes and sizes is good enough to get things going in the right direction.
Types of Industrial Storage Bins :
Nestable: These are the big sorts and fulfill medium-sized storage needs. They can be stacked within each other when empty and hence the name.

Stackable: These are mostly available in square and rectangular shapes and stack on top of each other. Hinged Bottom: These are used to store large objects in industrial setups.

Attached Lid: The lid is attached to the bin.
Types of kitchen storage bins
Stainless Steel containers

BPA-free plastic containers

Glass containers

Boroseal containers
Whatever be the setting always use high quality storage bins and do away with the clutter that often causes chaos at the workplace.