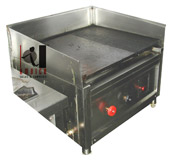 GRIDDLE PLATE WITH UNDER SHELF (GAS/ELECTRIC)
All SS. material used is SS. 304 grade. The plate is of MS. with or without grooves as per requirement. The under shelf and front panel is of SS. 18 swg., rest is of 19 swg. Uprights are of SS. pipe. Available in gas or electric.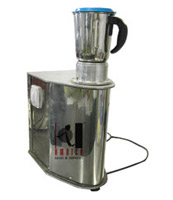 INDUSTRIAL MIXER FOR FINE GRINDING.
Cap. : ½ hP.Specifications
: The mixer has attachment for single glass jar of 1.5 Ltrs. capacity, with a speed of 14000 rpm, the under frame is of MS. angles and the body is fabricated form SS. Motor is of high torque, ½ Hp., single phase, 50 Hz.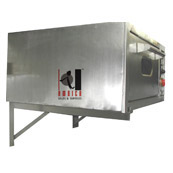 PIZZA OVEN.
Dim. : 27" x 20" x 16". Cap.: 8" - 4 Pizzas in the centre shelf
All SS. material used is SS. 304 grade. The unit is totally fabricated from SS. 18 swg., door is spring loaded type with toughned glass window and illumination lamp on the inside. It has a shelf in the centre fabricated from SS. rod. Insulation is of mineral glass wool and asbestos. Provided with thermostat, 1- 2- 3, type rotary switch for control and indicating lamps. Available in single ph. and 3 ph.