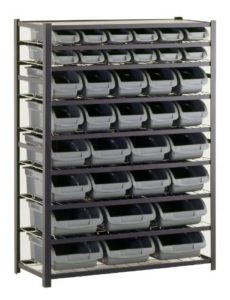 Industrial storage bins are one of the most versatile items used in any industrial setting. They are responsible for ensuring a neat and uncluttered workplace area and this is an important factor that goes a long way in enhancing the productivity of the workforce in the area.
Industrial Storage Bins used in Canteen Area
This mode of storage comes in varied shapes, sizes and material and is highly useful in the canteen areas of any industry. Industrial canteens need to cater to a large workforce and food has to be therefore cooked in large quantities. Equipment which can handle large volumes of food is needed here and so the all-time favourite mini fryer will be needed in multiple quantities to cater to the large crowd frequenting the canteen. Storage bins are one of the items that prove very useful here as they help to store all the required material safely and securely. They also ensure that the service counter of the canteen is kept neat and clean and free of any clutter.
Industrial Warehouse Bins
Warehouses need to keep supplies for their factory or over stock some items for department use. Storage bins used in the warehouse section of any industrial setting ensure that industrial components of differing make and size are stored safely and made available when they are needed. Some of the components that find their way into the storage bins are:
Fasteners: Similar type of fasteners can be kept in distinct bins. By this, the men on the shop floor can easily find the right sized screw or nail required for their specific applications.
Tools: Colour coded storage bins are convenient to store tools of one kind. Wrenches, screw drivers of one size can be placed in say a red coloured storage bin while bigger sizes of the same tools can be stored in bins of different colour.
Tape Rolls: Any piece of item that has to be rolled like a tape, chain or a chord can be arranged in warehouse storage bins based on colour. This avoids the mess that is likely to occur in the factory setting if these items are not kept properly.
Engine Parts: Engine parts are normally needed by clients on a part-by-part basis. The industrial storage bins facilitate the owner of an auto warehouse to keep the varied engine parts like pulleys, pistons etc in an organised manner.
Safety Gear: Several items like goggles, gloves and safety masks have to be replaced at regular intervals. It is better to keep these items in colour coded bins instead of hanging them on crowded hook racks.
Surplus: Several components which are leftover parts of gadgets, machines and product containers such as computer-speaker stands, rubber knobs, plastic bottle caps and jar lids have to be stored properly. Each of them can have their specific bin on the warehouse shelf of the factory.
Summarising
Industrial storage bins are an indispensable part of any industrial setting. Available in different types, colours and material they are helpful in meeting the needs of different industries totally.