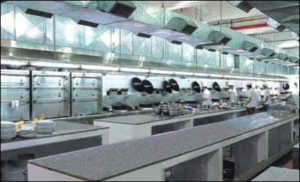 In commercial kitchens, buying and using suitable equipments is of utmost importance. Kitchens in setups like large restaurants, fast food joints and hotels have to be equipped with suitable cooking, storage equipments. Besides, apt devices for refrigeration and ventilation also have to be used. Therefore, owners of those large scale commercial kitchens should buy such equipments with care. Without proper equipments productivity at such setups will get affected adversely. There are companies that manufacture and sell products aimed at large scale commercial kitchens nowadays.
Storage solutions for large kitchens
In large scale kitchens, storage solutions need to be large as well. For storing huge amounts of raw meat, vegetables and many other types of food, you need various types of Kitchen storage bins. These can be made of stainless steel and quality plastic. Since maintaining hygiene of food is a prerequisite in these setups, you should look for BPA free plastic containers. You may also need to buy metal racks for storing food. You can compare various types of industrial storage bins online and pick the ones matching your needs well.
Things to consider when buying equipments for big kitchens
There are a few things that you should think of when buying large kitchen appliances and equipments.
Capacity- The capacity of products used in large scale kitchens is important. You should not buy undersized refrigerator or storage cabinets for kitchen in hotel or restaurants, as it is. In fact, you should buy equipments thinking of future usage and expansion needs in mind.
Durability- The equipments used in large kitchens for storing and cooking food have to be durable. This is because they are used to preserve, cook or store large volumes of food and daily usage is a prerequisite.
Mobility and flexibility- It is better if you can buy Kitchen equipments for Hotels that are mobile and customisation in nature. Even large sized storage racks and trays with wheels can be moved from one place to anther easily. This can be required in large kitchens where things may need to be rearranged from time to time. The storage solutions should be customizable. It is better if you can fold them and expand as per usage need.
Choosing the right company
There are several entities that sell commercial kitchen equipments nowadays and some of them also offer those products online. However, you have to buy from the apt manufacturer. For this, you will have to analyze a few parameters.
Ensure the company is a reputed one and has a long tenure in this industry, to begin with. You should also check out if the company is offering warranty for the products. For bulk purchases, which can be natural in large scale business kitchens, you may get the appliances and equipments at a discounted rate from such sellers. If you have any query regarding the equipments, ask the seller before you finalize the orders. As an additional step, you can check out the social media sites and learn about image of the seller.