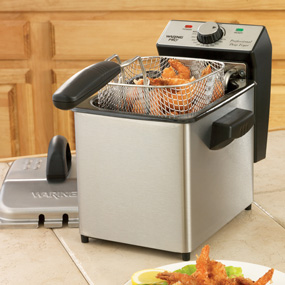 A restaurant business, howsoever big or small has to make sizeable investments with respect to commercial cooking equipment. Tilting pan, mini fryer, service counter, oven, gas stoves, kitchen storage bins are just to name a few of them. With such huge sums of money sunk into them it is imperative for the restaurant owner to ensure that it is being maintained properly and as per the laid down rules and guidelines.
Looking After Mini Fryer- Hot and Slippery Work
A deep fat fryer is the most popular equipment of any restaurant kitchen, milking maximum money through the crowd favourite recipes it dishes out. Hence, it is essential that this workhorse is kept in tip-top condition all the time.
Good Frying Practices
The biggest maintenance issue with respect to a fryer is the cooking oil and one has to have adequate knowledge on how this should be used. The fat has to be melted sufficiently and brought to the right temperature before embarking on any frying activity. Smoking fat indicates that the temperature has risen too high. Fresh foods which are to be used for frying should be dried off for moisture to the maximum extent possible. In case of multi-fryers, those that are not required should be turned off during slack periods. It has to be ensured that the fryer is not overfilled with say frozen fries as excessive amounts at a single time can lead to bubbling and splashing of hot oil.
Oil Filtration
In order to enhance the lifespan and oil quality, the oil has to be skimmed off for all floating food particles in it. Normally, traditional methods of oil filtration are used for the small counter-top fryer models but then this can be quite risky. A better option is having in-built systems for oil filtration. If this is not possible filter the oil when it is completely cooled. In in-built systems, the hot oil gets filtered through the filter system and is pumped back from the fryer bottom into the fryer tank.The whole operation takes just a few minutes with no risk involved to the person concerned.
Prevent Build-up of Fats
In addition to tackling the oil issue, the fryer too has to be cleaned well as continuous usage of oils leads to build-up of sticky grease. The fat can be softened by regularly degreasing the fryer with a competent detergent and then cleaning a large part of it by use of a non-abrasive plastic scraper. A thorough rinsing follows the cleaning and while doing this care has to be taken to see that no damage is caused to any electric tubes or elements in the tank. Build-up of grease around the power control dials can be prevented by regularly cleaning and lubricating them.
Summarizing
Your mini fryer is an important piece of equipment in your kitchen. If your kitchen staff undertakes the regular cleaning of the fry tank,it will go a long way towards lessening your servicing cost. Cleaning the fryer every day at night after use and letting it dry till morning is the best practice that can be followed.
Follow the above tips and see the number of years your mini fryer lasts in your kitchen!