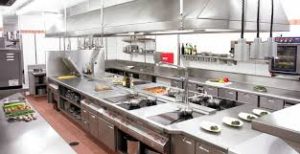 With changing time and technology over the past few years there has been huge change in each and every aspect of human life. Commercial kitchen equipments are also not lagging behind. Such kitchen equipments are generally designed for industrial users so that the end result is efficient cooking and great returns on investment.
With the advancement of technology, producing such equipments has become lot easier, plus a lot of variety is also being produced to cater to the demand of all categories of customers. Such products are available all around the world and can be purchased easily. Some of the commercial kitchen equipments which are in demand are:
Cooking equipment: For cooking purpose, the commercial kitchen equipments that are mainly used are fryers and ovens. Clients can choose an oven from variety of options such as single, double, triple and four burner configuration. Fryers can also be chosen between mini fryers, medium or large fryers depending on the number of persons they are planning to cater to. Such fryers are mainly used to bake and fry food items.
Refrigeration equipment: Refrigeration equipments are essential for commercial kitchen as lot of stuffs brought from the market needs to be stored so that it remains fresh. Apart from refrigerators there are various types of chillers that are also used in commercial kitchens. Pantry fridge and under counter refrigerators are two most important refrigeration equipments that are used. Most refrigerators that are used in such kitchens have multiple doors so that there is more storage space plus the items can be stored in a definite way. One can choose between various models as per their requirements.
Storage bins: Clean and clutter free area is desired by all. Storage bins are of great help when it comes to creating a clutter free area. Weather it is industrial storage bins or kitchen storage bins, having them in the work place or home has several advantages. Keeping things in storage bins gives a neat appearance to the place. Things can be found easily and this saves a lot of time. Also most of the storage bins come with a lid to protect the ingredients from spoilage that may happen if kept in open. Storage bins are available in all shapes and sizes as per the requirement of the clients. It can be made of steel, plastic, glass or boroseal too.
Exhaust equipment: All the commercial kitchens have exhaust equipments so that the evaporated spice or oil does not stick to the walls, furniture or ceiling. The exhaust equipment does the job of releasing the fume outside the building through a chimney. These products play an important role in keeping the kitchen area clean. Modern kitchen equipments are also fitted with auto cleaning technology which will reduce the need to clean it manually after regular intervals and thus cost of manual maintenance is reduced to a great extent.
Service equipments: With catering and food business on the rise, along with the above kitchen equipments the need for service equipments is also in demand. Without service equipments it will be almost impossible to carry out such businesses. Some of the service equipments which are in demand are dining table, service counters, water boilers, hand wash trough and so on.