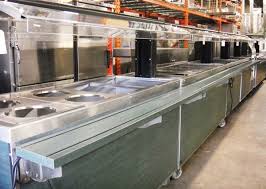 If you are foodie and have the blue blood of entrepreneurship then the first idea which will pop up in your mind will be a restaurant business. A restaurant, apart from food, classy interiors and sitting arrangements also demand explicit kitchen arrangements and other serving vehicles. Here is a quick view of the basic requisites for launching a new restaurant:
Serving vehicles for smooth serve
 Customers are your guests and you need to pamper them like your in-laws because it is the customers who can uplift your restaurant sales figure. Here pampering means, providing them with comfortable yet cozy sitting arrangements along with high end professional servings. Gone are the days when you serve the plates via balancing over your hands, because latest cuisine hospitality is stuffed with smooth serving trolleys. They come in tiers (2 or 3) where you can stuff enough foods for more than one table order.
Large scale cooking appliances
 At peak hours or at weekends you need to fry thousands of French fries or need to roast hundreds of corns. Doing it manually over oven may kill a huge time and you will end up losing your customers. To manage time and money, you need some large scale deep fat fryer, extra large fryer, chocolate warmer and corn heater. All these appliances can be effectively ordered from the renowned food service equipments manufactures.
 Store room for chef's belongings
 Your chef, the soul artist behind your finger licking food does not come with head cap, apron, gloves and cooking boots. He or she is a common man and cast the early presence like any other ordinary person before he/she enters into the arsenal of the cutleries. For them a locker room is not enough, you need a shoe rack and cupboard as well where they can keep their belongings safely.
Freezers or the food storage units
 Residential freezers with doors and racks are not at all suitable for a restaurant's kitchen. For a restaurant, the freezer must be in the form of drawers, famously known as drawer refrigeration. The 3 or 4 tier refrigerator is quite handy, just label each tower, like one for veggies one for corns, one for fruits and drag the respective drawers in confidence without much search and hunt within the stuffed one door freezer.
Kitchen bins to lock the spill
Every restaurant kitchen needs kitchen storage bins to store the waste materials. These industrial storage bins though are not considered as a vital part of any kitchen, are extremely important to offer the kitchens of restaurants a clean, hygienic and organized feel.Before deciding on the industrial storage bins check the products well from the suppliers and choose as per your restaurant's requirement.
Apart from these, there are several items which may prove beneficial for the restaurant kitchen and other ambience uplifting purpose, like chair tables, tools, grilling machines, bins and many more. The canteen and hotel designers will be the best person to guide you in this section. So, design your kitchen and restaurant accordingly and plan a perfect delightful menu card and high sales value, blooming with satisfied customers.