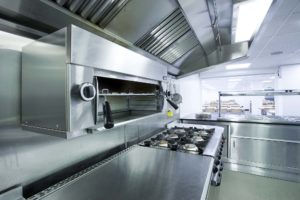 If you want to be a food entrepreneur and not be tied down to a specific location or specific hours then you are best suited to start a catering business. By starting small you can hone your skills and develop your reputation and before long you can have a roaring catering business going for you!
Catering Business is Very Profitable
Catering business is a profitable proposition than opening a restaurant business due to a number of reasons. Food of the same type can be prepared in bulk and moreover that what is ordered need only be made ready. This eliminates the need to make say 100 individual plates of an assorted variety. The advantage of economies of scale can be gained here.  Moreover, since the food is served in a buffet, the number of waiters needed is less and hence the labor cost is less in this context. Initially, the caterer can start on a small scale and then move on to big business.
Experience
Having experience in the catering business is vital before you think of starting on your own. It is advisable for you to work as an apprentice under an established caterer as that will give you invaluable knowledge about the business. Working as a personal chef will also help as that way you can increase your network through word of mouth publicity. Getting a first-hand experience in the field enables you to gain insight into the finer details of the business.
Catering Concept & Cuisine
The budding caterer has to decide what type of menu he will specialize in like whether you would want to go into gourmet catering, wedding catering, lunch and snack catering or comfort foods.  The next significant aspect of the catering business is the food. First start out with food in which you are an expert and can guarantee its deliciousness. Moreover, the food has to remain so in spite of sitting for hours together in a food carrier or on a chafing dish.
Personnel
Personnel form the core of any business and getting an efficient set of employees who can deal with the stress and fast pace of the catering business is an utmost essential. Among these, the first person to be hired is another good chef as being the owner of the catering business; you cannot confine yourself to the kitchen all the time. Bringing in another person as a chef into your business helps to expand your business and take it to the next level.
Catering Equipment
A caterer has to have a good stock of the catering equipment so that his party event is undertaken in as smooth a manner as possible. Some of the equipment needed by him includes food carriers, beverage dispensers, dinnerware, serving dishes, display items and so on. Several restaurant equipment manufacturers keep a comprehensive stock of such items and the caterer can start by shopping for the essential items in the beginning. It is however, necessary for him to research on the commercial kitchen equipment manufacturers before he makes his buying decision.
Besides the above, marketing skills, event planning skills have an equally vital role to play in getting your catering business to a flying start.